Connect Everything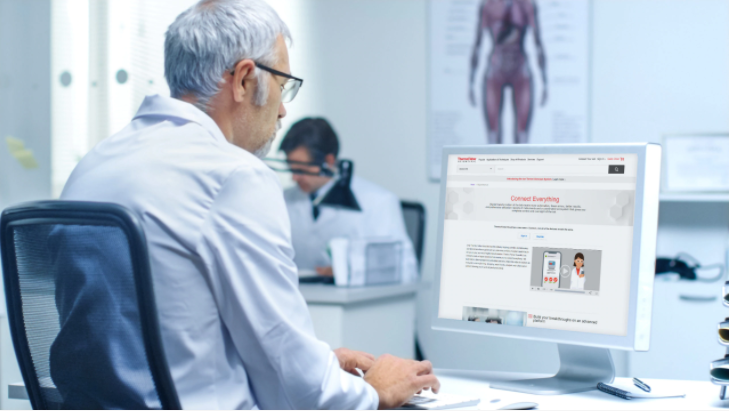 You probably can't imagine life without your smart phone or computer. Digital technologies have transformed the way we live—but the scientific community has only begun the digital transformation that is evolving the way laboratories interact with the products and services they rely on.
When you partner with Thermo Fisher Scientific in the effort to advance science, you want to transact with us quickly and seamlessly, access relevant content easily, and find more ways to increase your productivity. As the world leader in serving science, we are constantly bringing new digital technologies and connectivity to the lab to evolve the ways in which you engage with us. Digital interaction with Thermo Fisher is no longer just transactional—it is a unique and full-spectrum experience with all of our digital services working in tandem with each other to help increase your scientific acceleration and lab productivity.
You already count on Thermo Fisher because we have the scale to support your needs—whether it's our unrivaled product portfolio, the advantage of our global presence, or our ability to fully support nearly any workflow. But you should also know that we're ready to help you succeed with your lab's digital transformation.
This is an evolving space, as technology continues to advance, and we are committed to providing you with the most advanced and user-centered digital tools to help boost reproducibility and accelerate the time to discovery. Below are some of these capability areas, which you can explore on our digital science storefront at thermofisher.com/connecteverything
Platform
Our free, cloud-based platform is called Connect. Imagine what's possible when your lab's connected instruments work seamlessly with secure data storage, scientific analysis, and peer collaboration tools. And for commercial labs, our Platform for Science has integrated LIMS, ELN, and SDMS software, as well as workflow apps to help further speed up your time to discovery.
Connected instruments/equipment
With connected instruments and equipment, you can remotely schedule and monitor connected instruments for more uptime, utilization, and convenience. Additionally, you can monitor telemetry data to stay ahead of unplanned equipment outages or to quickly access our services team's expertise.
Scientific data and workflows
Our systems and analysis functions enable faster insights and can help improve reproducibility by guiding a lab's scientists in managing their experiment workflows and providing consistency in how they save their scientific data. These tools also include apps that can help labs better understand their results. Additionally, collaboration tools allow for easy and secure sharing of data with peers.
eProcurement
We make planning and purchasing easier for your procurement managers, with self-service tools on thermofisher.com and fishersci.com that work together with your internal eProcurement marketplace systems.
Inventory management/Supply Center
Our digital tools and smart Supply Centers help your inventory managers maintain proper stock levels, control costs, and anticipate future demand, providing them with more time to search for answers instead of supplies.
Services Marketplace on thermofisher.com
Services Marketplace can help expand your lab's capabilities and allow you to access new expertise. Simplify the process to find, quote, buy, and manage scientific services online with the Services Marketplace. You can gain access to services from Thermo Fisher Scientific, as well as third parties, to help elevate your lab's productivity to new levels.
Find out more about how all of our digital capabilities work together at thermofisher.com/connecteverything